Once Upong A Time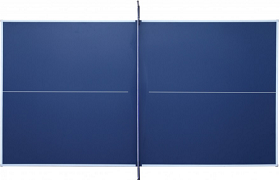 "You can learn more about a person in an hour of play than you can from a lifetime of conversation"
- Plato
Hello,
Welcome to Once Upong A Time and experience the gift of being in the present moment called 'now' with its founder, Ajay Bika. After 30+ years mirroring people of all ages and skill levels at table tennis(ping pong), Ajay has observed the brilliant effects the game can have on people who have an opportunity to play with someone who he likes to refer to as Forest Gump Good!
Numerous studies have concluded that 'table tennis' activates various portions of the brain simultaneously. By playing the game, under any condition, an overall state of awareness is stimulated - requiring both thought and physical alertness at the same time.
Some of the benefits of playing the game are truly amazing:
Increases concentration and alertness (being in the 'now')
Stimulates brain function
Reduces stress/anxiety
Develops tactical thinking skills
Improves hand/eye coordination (balance)
Provides aerobic exercise
Provides social and recreational interaction
Contact
Begin a new chapter of your story at
Once Upong a Time
and schedule a time to play with Ajay at 612-750-2452.